Festa Italiana presents Bingo Italiano™
St. Joseph's Day on Zoom
Friday, March 19th 2021
BINGO ITALIANO™ 7-9 PM on ZOOM
$20 – 2 Cards
NOTE: There is a $2 Service Charge for each ticket.
Calling all "Friends of Festa" to join together for a night of Bingo featuring great prizes and some of our favorite Italian entertainers such as Lenny Luzzi and Tony La Stella.
Round 1 – Regular "BINGO"
Prize: 10 Free pkgs. Isernio's Sausage ($50 value)
Round 2 – Regular "BINGO"
Prize: Gift Cert. Big John's PFI ($75 value)
Round 3 – Four Corners
Prize: Gift Basket of Limoncello and Tito's ($75 value)
Round 4 – Blackout
Prize: Gift Cert. Tutta Bella Pizzerias ($100 value)
DRAWING
Prize: Dinner for Two at Montalcino Ristorante in Issaquah ($100 value)
NOTE: You must be present on Zoom to win the drawing.
Bingo Italiano on St. Joseph's Day will have four rounds (two regular rounds, one "4 Corners," and one Blackout round). There will be a 10 minute break in between each round to reset your cards, grab a drink and enjoy the entertainment. You may also mingle virtually by using "CHAT" between rounds. You will receive your bingo tickets by email.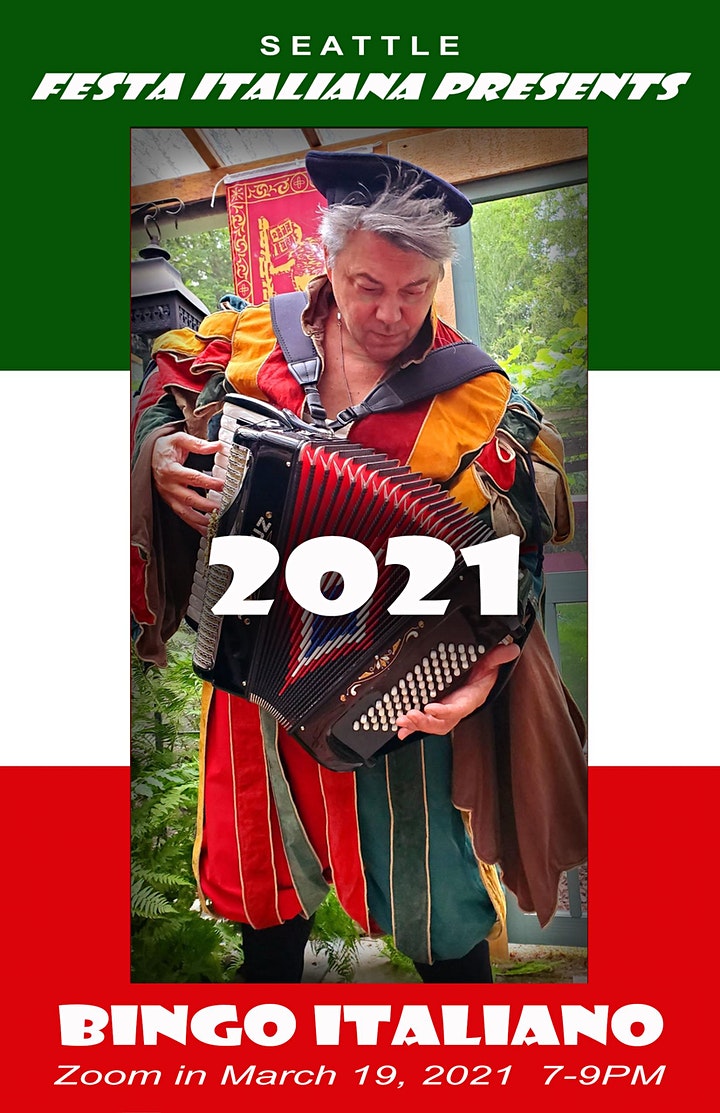 "Buon Natale" from Festa Italiana!
For several generations of Americans who love to go to large outdoor public concerts and events, 2020 will always be remembered as the year we all learned to slow everything down, videotape it and stream it out on the internet. Therefore, as a special holiday gift to those who love "All Things Italian," and, as part of Seattle Center's annual Winterfest Celebration, Festa Italiana Seattle is proud to present "The Story of La Befana" based on the book "The Legend of La Befana" by Tomie dePaula.
This 16-minute video of Italy's beloved Christmas fable features the carol "Tu Scendi dalle Stelle" and stars Nancy Grossi as La Befana herself, with Chai Ahrenius, Gino Lucchetti and Stephen Wall (collectively known as "Fortissimo!") as the Three Wise Men. The rest of the cast includes musicians Bonnie Birch, Dominique Martin, and La Mezzanotte Trio; choir members Julian Betz, Addison DerGarabedian, Ava Grossi and Makenna Sinclair; and introduces Giada Caldirola as a shepherd girl with her Lagotto "Bosco" as Natale the lamb.
Please enjoy this heartwarming story which has been told in Italy down through the ages.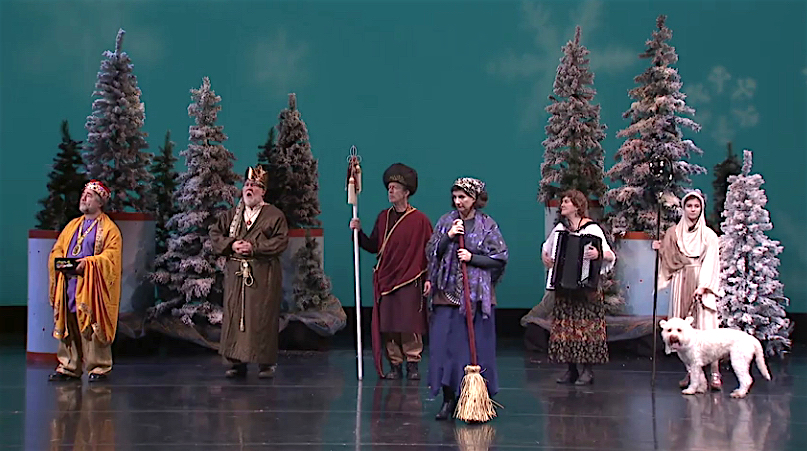 The Virtual Italian Festival 2020
Welcome to Seattle's 33rd Annual Festa Italiana! Festa Italiana is an all-volunteer community organization that produces an annual series of events the last week of September, culminating in a FREE Italian Festival. Since 1988, Festa Italiana has been celebrating the cultural roots of Italians and Italian-Americans in the Pacific Northwest by promoting the arts, the food and the culture that are uniquely Italian.
This year, due to restrictions placed on large public events, we are going 100% virtual! Please join us as we present the excitement of a "Live" festival captured forever for viewing on your cell, computer or TV screen.
Where and When
All of the music and entertainment of the 33rd Annual Italian Festival has been videotaped at Seattle Center and will start streaming at 12 Noon, Saturday, September 26, 2020 on several platforms worldwide including this site and www.SeattleCenter.com/Festal.
We'll also be hosting Bingo Italiano starting on Friday evening.
List of Artists in Order of Appearance
Fortissimo!, Danny Quintero, Julie Cascioppo, Tony La Stella, Seattle Mandolin Orchestra, The Primo Basso Band, Rob Porcaro, Mary Marchese – That's Amore, La Mezzanotte Trio (Slideshow), Dennis from Dennis & the Jets, La MezzaNotte Trio, The Rigatones, Tony La Stella & The Goombas.
Special thanks to Seattle Center and our amazing sponsors!
List of Artists in Order of Appearance
The Rigatones, Danny Quintero, Mary Marchese, Fortissimo! The Tarantellas, Rob Porcaro, The Primo Basso Band, La Mezzanotte Trio (Slideshow), Mbrascatu, Tony La Stella & The Goombas, Fortissimo!, Julie Cascioppo, The Primo Basso Band, Fortissimo!
Special thanks to Seattle Center and our amazing sponsors!
Additional musical performances by our very own Seattle Mandolin Orchestra and the Portland based Gypsy-rock band, Mbrascatu, can be found on our Musical Performances page.
Over the years we have had Live Cooking Demos from chef's representing such local restaurants as: Café Juanita, Tulio, il Fornaio, Il Terrazzo Carmine, Café Bengodi, Serefina, Assaggio, etc. Some of their recipes can be found in our online Recipe Collection. At the same time, we have featured such national culinary luminaries as Mario Batali, Giuliano Bugali, Anne Burrell, Biba Caggiano, Michael Chiarello, Rocco DiSpirito, Mary Ann Esposito, Christina Pirello, Rosella Rago and Nick Stellino. This year we are presenting a series of pre-recorded cooking demos on video that can be screened anytime, anywhere, and that you can view as you cook along! Just visit the Great Italian Chef Page to see demos from local chefs such as Brad Inserra and Frank Isernio to national stars like Rossella Rago.
Downloadable Virtual Festa Poster
Le Arti della Festa Italiana
Le Arti della Festa Italiana will be displaying all this year's selected artwork in an online gallery. For more information, including how to submit your Italy-inspired work for inclusion in this year's show, take a look at our Art & Photography page.
Dante Alighieri Society, Italian Language Classes and Food Quiz
As part of the Virtual Festa, the Dante Alighieri Society, listed on our Cultural Organizations page, has posted Italian Language Classes and even an Italian Food Quiz and presentation. Find these items and more on our Learn Italian page!
Get Involved
Festa Italiana is a community driven event, so if you're interested in getting involved we have several ways in which you could help: