Weekend Celebrations
Fun for the whole family
The main location for Seattle's Festa Italiana weekend celebrations is right in the heart of the city at Seattle Center's Fisher Pavilion and surrounding grounds. Join us for fun, food and free entertainment for the whole family.
Transportation Options
Getting to and from Seattle Center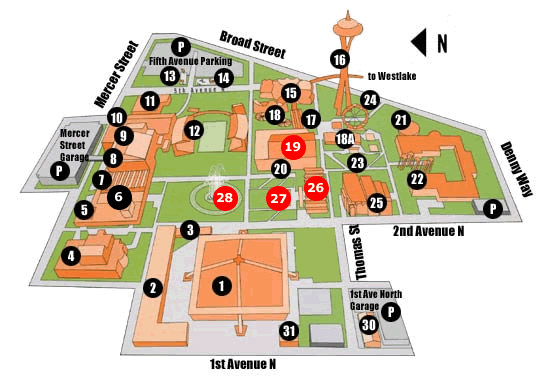 1 KeyArena
2 Northwest Rooms
3 Snoqualmie Room
4 Seattle Repertory Theater
5 Intiman Theatre
6 Exhibition Hall
7 Pacific Northwest Ballet
8 McCaw Hall
9 Mercer Forum
10 Mercer Arena
11 KCTS Television
12 Memorial Stadium
13 Nate McMillan Basketball Court
14 Skate Park
15 MoPOP (formerly EMP)
16 Space Needle
17 Seattle Center Monorail
18 Fun Forest Amusement Park
18A Dale Chihuly Museum
19 Seattle Center Armory (formerly Center House): Taste of ItalyTM Wine Tasting, Historical Photos, Le Arti della Festa Art Exhibit, Italian Dog Show, Bocce Tournament and Tino's Cortile (Kids Courtyard)
20 The Children's Museum
21 Boeing Imax Theater
22 Pacific Science Center
23 Mural Amphitheater
24 Sculpture Garden
25 Seattle Children's Theatre
26 The Fisher Pavilion: Moretti Main Stage, Food, Arts & Craft Vendors, Indoor Wine Garden.
26 The Fisher Terrace: Wine Garden, Food Court, Cooking Demos, Grape Stomp.
27 The Fisher Courtyard: Wine Garden, Scooters & Vespas.
28 International Fountain / Fisher Green: Classic Italian Vehicle Show
30 Pottery Northwest
31 Storm Team Shop
 P Parking