Le Arti della Festa Italiana Seattle
Art show of works inspired by Italy
Few places in the world offer artists and photographers the endless opportunities found in Italy. It's no mistake that this central European Country in the shape of a boot possesses a unique beauty of its own. Be it the landscapes, the architecture, the seascapes, the people or even the 15th century cobblestone streets, Italy looks good in watercolor, oil or through any camera lens.
This year, Le Arti della Festa Italiana will again be expanded to incorporate more artists and more artistic media. As always, this exhibit will feature work by myriad artists on any number of subjects but still centered on Italy, Italian culture and Italian life.
Roberto Mario Tacchi, memorial collection
A special memorial collection of works has been added to "Le Arti della Festa Italiana" this year in honor of
Roberto Mario Tacchi
whose elegant woodcarvings adorn Seattle public spaces and personal collections and who passed away May 15, 2019 at the age of 80.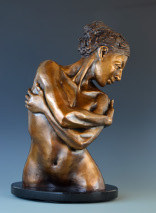 Lo Abbraccio, bronze, by David Varnau.
Viewing
As in past years, the show will be presented in the Armory at Seattle Center and be available for viewing for free by the general public on Saturday & Sunday from 10 AM to 5 PM.
Exhibiting
Registration and Application
Le Arti della Festa Italiana is a juried show and artists including painters, photographers, sculptors and mixed-media, etc. are encouraged to apply. To enter, please follow the registration process below.
Call for Artists
See your artwork about Italy displayed in front of 30,000 patrons at the largest Italian Festival in the Pacific Northwest.
Please Note: Artist registration is free but subject to approval. Please download, complete and return the application form (PDF) below via email, following the procedures set forth in the document.
DOWNLOAD APPLICATION
1. Click the button above to download information about how to enter your artwork.