Food, art, products and cultural organizations
Something for everyone
When you plan your Festa weekend, be sure to take a look at our exhibitors and vendor booths. We've been fortunate over the years to attract a wide variety of participants that will likely have something of interest for everyone in your group.
Participating
If you're interested in having a booth at future Festa Italiana weekend celebrations please contact us.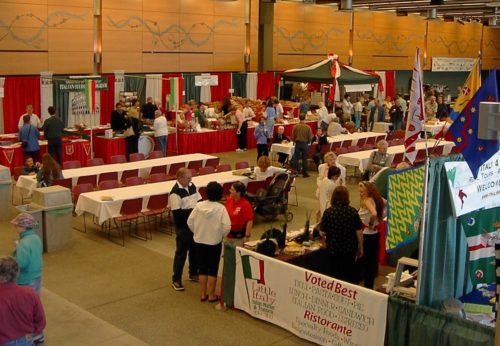 The Dante Alighieri Society
The Dante Alighieri Society of Washington has been participating in Festa for 33 years. One of their most popular activities is a series of Italian Language Classes hosted on Seattle University Campus (now online only) and taught by qualified native speakers under the coordination of Prof. Giuseppe Tassone. Fall quarter begins on October 1st with four levels of Italian from A1 to B2. Here are some samples of their online classes this past summer.
Domenico ("Nick") Minotti, Consigliere for the Dante Alighieri Society of Washington, has even created an Italian Food Quiz and Presentation
Vendors and organizations from previous years
FOOD VENDORS
Agrodolce Southern Italian Cuisine – Fisher Food Court
Al Forno Feruzza Pizza – Fisher Food Court
Borracchini's Bakery – Fisher Pavilion + Fisher Food Court
DiJulio Pasta – Fisher Pavilion
Festa Italiana Sodas – Fisher Pavilion
Festa Pasta Booth – Fisher Food Court
Festa Sausage Sandwiches – Fisher Food Court
Tutta Bella's D'Asporto Food Truck – Fisher Apron (North Side)
Shiskaberries – Fisher Food Court
Sons of Italy (Seattle) Meatball Sandwiches – Fisher Food Court
NON-PROFIT ORGANIZATIONS
Dante Alighieri Society – Fisher Pavilion
Eastside Genealogical Society – Fisher Pavilion
il Punto Cultural Center – Fisher Pavilion
Italian Club of Seattle – Fisher Pavilion
Seattle-Perugia Sister City Association – Fisher Pavilion
West Side Italian Civic Club – Fisher Pavilion
EVENTS AND ACTIVITIES
Festa Cooking Demonstrations – Fisher Food Court
Festa Pizza Toss – Tino's Cortile (Armory)
Oberto Bocce Tournament – SC Pavilion
"Opera Magic" for Kids – Tino's Cortile (Armory)
Tutta Bella Grape Stomp – Fisher Food Court
EXHIBITORS & PRODUCT VENDORS
11 Olives Olive Oil & Vinegars – Fisher Pavilion
Apple Cox Designs – Armory
Books About Italy – Fisher Pavilion
Eastside Genealogy – Fisher Pavilion
Facepainting with Giggles – Tino's Cortile (Armory)
Festa Classic Italian Vehicles – International Fountain
Festa Souvenir Booth – Fisher Pavilion
Full Circle Produce Delivery – Fisher Food Court
Historical Photo Exhibit – Armory
Italian Dog Show – Armory Roadway
Italian Language Classes – Armory
Italy4Real.com – Fisher Pavilion
Jewelry of Italy – Fisher Pavilion
Le Arti della Festa Art Show (Armory)
OSA F.C. Soccer Classes – Tino's Cortile (Armory)
Pacific Food Importers (PFI) – Fisher Pavilion
Naples Drizzle Condiments – Fisher Pavilion
Silver Dreams Fashion Jewelry – Fisher Pavilion
West Coast Italian Radio Show – Fisher Pavilion