Food, art, products and cultural organizations
Something for everyone
When you plan your Festa weekend, be sure to take a look at our exhibitors and vendor booths. We've been fortunate over the years to attract a wide variety of participants that will likely have something of interest for everyone in your group.
Viewing
Where and when
Most vendor booths are in the Fisher Pavilion, but you'll find others in and around other Festa activities.
Saturday and Sunday, 10AM-6PM.
Note that on Saturday night some vendors will be open until the music stops at 9:00pm.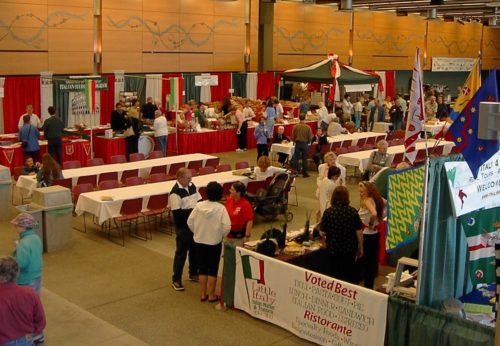 Participating
If you're interested in having a booth at the Festa Italiana weekend celebrations please contact us.
| FOOD VENDORS | LOCATION |
| --- | --- |
| Festa Italiana Sodas | Fisher Pavilion |
| Festa Pasta | Fisher Food Court |
| Festa Sausage Sandwiches | Fisher Food Court |
| FioreMaria's Italian Ice | Fisher Food Court |
| Galileo Pizza | Fisher Food Court |
| Kelly Cannoli | Fisher Pavilion |
| Nutty Squirrel Gelato and Caffè | Fisher Pavilion |
| Tutta Bella's D'Asporto Food Truck | Fisher Apron (North Side) |
| Shiskaberries | Fisher Food Court (Totem Pole) |
| OSDIA (Seattle) Meatball Sandwiches | Fisher Food Court |
| NON-PROFIT ORGANIZATIONS | LOCATION |
| --- | --- |
| Casa Italiana Italian Cultural Center | Fisher Pavilion |
| Dante Alighieri Society | Fisher Pavilion |
| Grand Lodge OSDIA | Fisher Pavilion |
| il Punto Cultural Center | Fisher Pavilion |
| Seattle-Perugia Sister City Association | Fisher Pavilion |
| EVENTS AND ACTIVITIES | LOCATION |
| --- | --- |
| "36 Years of Festa Posters" Exhibit | Armory (upstairs) |
| Kid's "Hands-On" Art Activities | Armory (upstairs) |
| La Cucina Galbani® Cooking Demonstrations | Fisher Food Court |
| Oberto Bocce Tournament | Armory |
| Tutta Bella Grape Stomp | Fisher Food Court |
| Tutta Bella Pizza Toss | Armory |
| EXHIBITORS & PRODUCT VENDORS | LOCATION |
| --- | --- |
| 11 Olives Olive Oil & Vinegars | Fisher Pavilion |
| Anna Perone Jewelry | Fisher Pavilion |
| Apple Cox Designs | Armory |
| Books about Italy | Fisher Pavilion |
| Dalla Fonte Italian Food & Wine Club | Fisher Pavilion |
| Festa Souvenir Booth | Fisher Pavilion |
| Festa Historical Photo Exhibit | Armory |
| Festa Italian Car & Vehicle Show | Fisher Green (Saturday) |
| Festa Italian Dog Show | Fisher Pavilion Courtyard (Sunday) |
| Italy4Real.com | Fisher Pavilion |
| West Coast Italian Radio Show | Fisher Pavilion |