Festa Italiana presents a Greg Olson Production
Fellini Springtime
The Federico Fellini Centennial Film Series
Plestcheeff Auditorium, Seattle Art Museum
The centennial of master Italian writer-director Federico Fellini (1920-93) occurred in the first pandemic year, so celebrations were cancelled. Over the endless months of fear and lockdowns, the world's filmmakers and film fans, when asked what they most wanted to watch, often said, "Anything by Fellini."
Fellini's films are a lifeforce elixir, a warm, soulful, playful, exuberant gush of life's messiness, mystery and wonder, from earthy streets to the alluring stars. Often tenderly spotlighting Fellini's Oscar-winning wife Giulietta Masina, and his onscreen alter-ego Marcello Mastroianni, Fellini's cinema is a profound spiritual journey and a rollicking circus — all at once, worshipping the Eternal Feminine and parading to a jaunty Nino Rota tune.
Fellini's timeless poetry embraces everyone from social outcasts to Swinging Rome sophisticates (Oh those fashions!), always reminding us that "I like always to make people laugh." Laughs of self-recognition, of coming home to the human family, we actors in Fellini's parade, the Divine Comedy.
These screenings are exclusively authorized by Fellini's studio Cinecitta, Rome, and the Fellini Foundation, Martin Scorsese's Film Foundation, and Gucci. Images used by permission.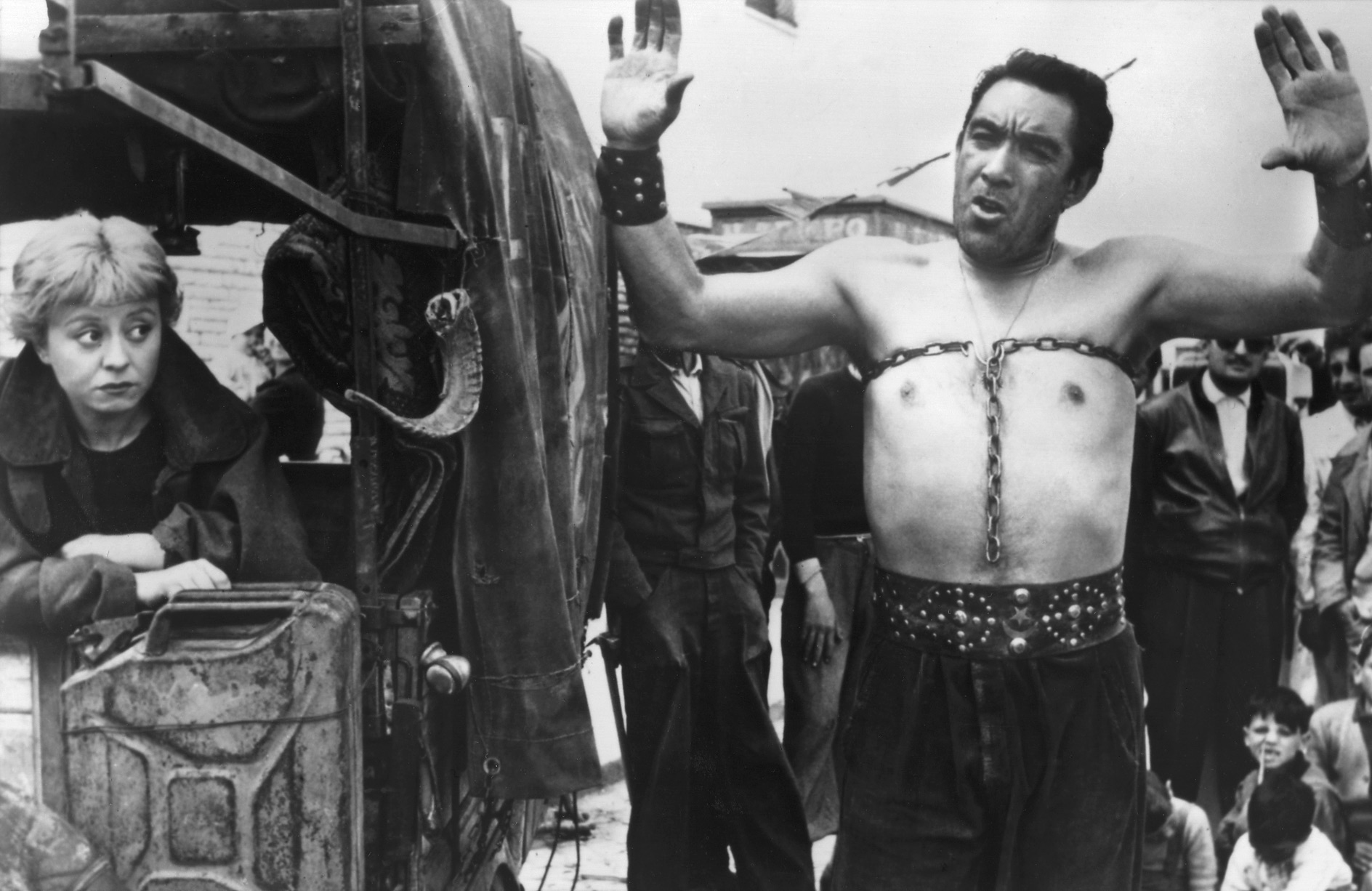 Ten films on nine nights in Italian with English subtitles
Poet, film curator and teacher Tova Gannana will provide an essay on each film.
Films start at 7:30 pm
Thursday April 28
The White Sheik, Toby Dammit
Tuesday May 3
I Vitelloni
Thursday May 12
La Strada
Thursday May 19
Il Bidone (The Swindle)
Thursday May 26
The Nights of Cabiria
Wednesday June 1
La Dolce Vita
Thursday June 16
Juliet of the Spirits
Thursday June 23
Amarcord (I Remember)
Thanks to sponsors (financial and otherwise) Dennis Caldirola, Suzanne Ragen, Jeannine Gregoire, Tova Gannana, Matt Marshal, Dennis Fill, Jan Baross Media and Kendal Gabel.
Italian style
Come early and enjoy film-themed cocktails and Italian snacks at SAM's Market Seattle Cafe. Dress up Italian style!
Please note
Plestcheeff Auditorium has museum-strength air circulation but mask-wearing required. No food or drink allowed.
Parking Available
The SAM garage, located under the Museum, offers secure enclosed parking. The garage entrance is on Union Street between 1st and 2nd Avenues.